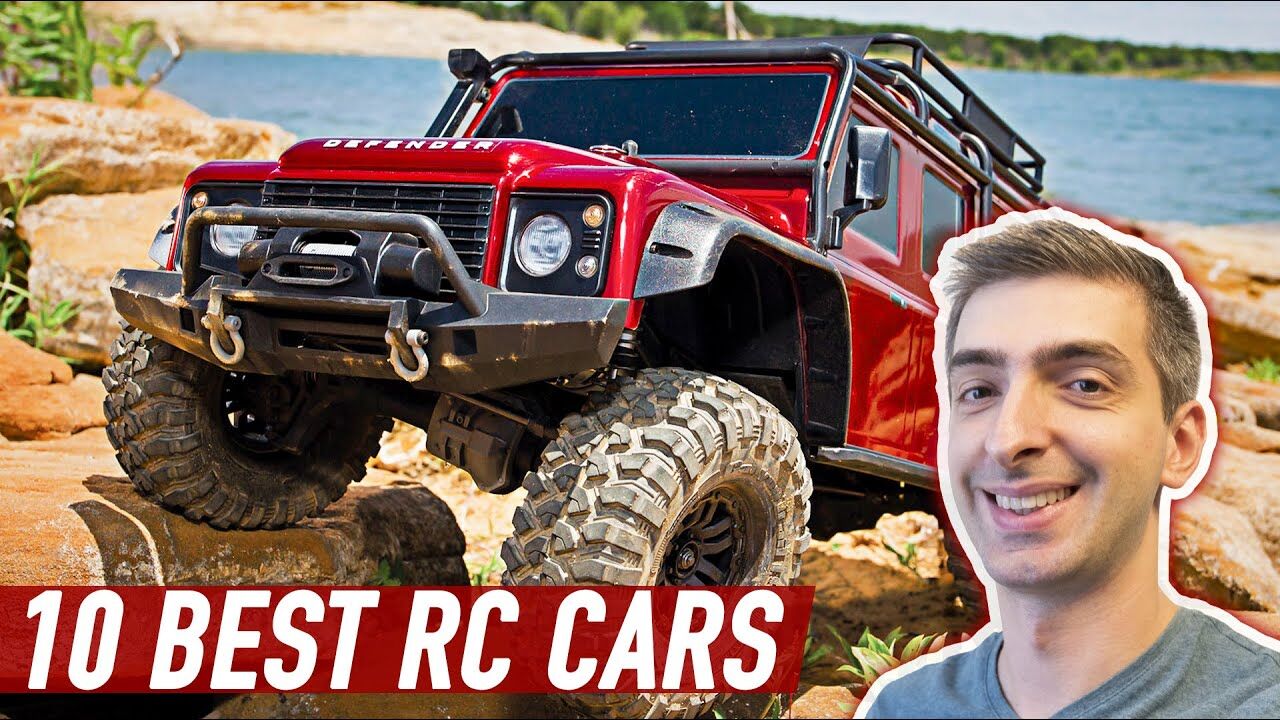 10 Best RC Cars For 2020 And Beyond!


Shall we, but first I'll try to answer some of the most common questions regarding this type of sport, and these are who makes the best RC cars? How fast can remote control cars go? How much does a remote control car cost and what are the best RC drift cars so who makes the best remote controlled cars? Well, Traxxas is one of the companies that managed to make a strong name for itself. In the RC cars business, their products are known for being durable, fast and customization friendly. Another brand that stands out is team associated which impresses when it comes to versatility quality and their spare parts lineup offered to buyers. Tamiya is yet another name that offers good RC models. How fast can remote controlled cars go just like real life? Cars RC cars serve a particular purpose. You'Ve got off roaders and speedsters too, as well as entry level RC cars, which are more like toys in general. Top speed varies between 10 and 70 miles per hour for well built radio controlled cars, but some dragster, like RCS, can top 100 miles per hour on rare occasions, which is pretty insane. If you think about it, how much does it all cost again? It depends on the RC car prices can range from as low as thirty bucks to an eye watering, eight hundred dollars or more for more complex and faster cars. While custom made examples can sell for 1000 easily. But if you're just starting out, it might be best to stick to cheaper models and climb up the ladder, as you gain more experience like I said before, there are a lot of types of radio controlled cars, but what, if you're just interested in drifting at a Smaller scale, what are the best RC drift cars well it's, really important that the model you're looking for is rear, wheel, drive battery capacity and a motor power are less important as you'll be able to let that rear end slide the way easily on dust covered or Wet surfaces so rear wheel drive is a must if you're looking for a quick fun, although an all wheel, drive RC car will still drift under the right conditions and one of the most popular RC drift cars is the team associated apex Scion, but the red cat Racing exp is also held in pretty high regard, and, if you have suggestions of your own, please let us know in the comments below these are just our favorites.
It doesn't mean you have to like them too, and now for the 10 best all round. Rc cars on the market, Traxxas Slash two wheel, drive short course: racing truck care for some doom bashing, but can't afford to wreck your own personal car. That Traxxas Slash racing truck can help you with that right in your own backyard, for about 200 it's got a long travel four corner, independent suspension, setup chunky off tires with a special tread and plenty of power. Coming from a Titan 12 turn electric motor coupled to a xl5 power system, top speed is rated at 30 miles per hour, but the trucks main selling point is its ability to kick ass, regardless of the outside conditions, beat mud, water or snow. Thanks to the torque control, slipper clutch and waterproof electronics, traxxas rustler 4×4 v, XL stadium truck another Traxxas RC car. That makes it on our list is the Rustler 4×4 v XL truck, although not a truck per se, but more of a supercar like body riding on huge talent, EXT wheels. The Rustler is basically a mean looking wheely machine, sending power to all four wheels via a shaft driver. All wheel, drive setup, it can reach top speeds of over 65 miles per hour. Stability on shaky ground comes from the imbued chassis, that's, also 20 millimeters longer than the regular tracks as platform and accommodates the 3500 kilovolt vallini own brushless motor. This one costs about 400 bucks, SpaceX fun off road truck.
If you're, looking for an entry level, RC off road truck that won't break the bank but still looks mean and drives accordingly, this SpaceX fun concoction is for you and your kid courtesy of to a motor. It can go as fast as 15 miles per hour and it's nickel metal hydride battery pack allows for up to 30 minutes of fun on a full charge. Specifics fun also says that RC cars body is made of ABS, plastic and painted with safe spray materials, which sounds nice. The best part about it is its price it's, less than 50 bucks tracks, this Bigfoot right, so we're back to Traxxas land with the Bigfoot. Essentially, a licensed scale, RC car inspired by the legendary Bigfoot monster truck it packs a 7 cell nickel metal hydride battery and a 4 amp 12 volt DC fast charger power comes from a Titan 12 turn a motor paired with a magnum 72 transmission. The Bigfoot can reach top speed of up to 30 miles per hour, but it won't make a fool of itself while climbing stuff either thanks to its 4 inch ground clearance, oh and its circuits and wires are waterproof and the body is made of lexan. So don't be afraid to take it out against the elements this one goes for about two hundred and fifty dollars. Traxxas prx for defender you don't, really like the new defender and an old one, would still severely puncture your budget have no fear.
Traxxas is here again yeah track system. The TRX for defender is pretty cool looking and it also packs a mean a Froude punch. All of this means that Trax is fitted it with portal axles yeah. You heard that right, remote locking differentials and a Titan motor fed by a six or seven cell nickel metal hydride battery, and you can also opt for the two or three cell lipo battery pack. Everything sits nicely attached to the heavy duty, steel frame, chassis and GTS. Aluminum shocks and remember this one's, not above speed or honing in the dust, but more about carefully planning your path as you climb over all sorts of obstacles, with all that kit on board expect to pay around five hundred bucks for it, which isn't really cheap, lexy. Rc truck we're, leaving Traxxas land for now, because something else caught our eye. This f1 shaped chunky. Tire off roader is perfect for your kid it's top speed is 20 kilometers per hour or about 13 miles per hour, and you won't have to worry about crossing the occasional puddle. All its components are waterproof. In fact, the black sea says you can even give it a good wash with a high power water spray once you're done tuning it through the mud, speaking of which it's got all sorts of protective bits and bobs like the front end plate roll cage and even A special frame that keeps the a motor safe from bumps and whatnot and it's less than 40 Traxxas ford bronco.
While we wait for the delay, the debut of the 2021 real ford bronco, why not enjoy the 1979 Ford Bronco as a 1 by 10 scale? Rc car the body kit on this particular toy, is amazingly detailed and just like the Traxxas, dr x4 defender, it too sits on portal axles and uses remote, locking diffs to get the maximum amount of grip on slippery surfaces. In fact, the Broncos powertrain is identical to the defenders, but the overall price is a bit lower at around four hundred and sixty dollars theme Associated Pro ste 10. The team associated pro se 10 RC car is a direct rival for the Traxxas. Slash two wheel drive: it comes as a 1 by 10 scale, car that's, ready to run and packs the likes of big bore: coilover sharks, a sealed gear differential and three thousand three hundred kilovolts electric motor. It goes without saying that every bit and bob is waterproof, but keep in mind that it's designed for off road racing and not necessarily rock crawling speed wise. It will do around 40 miles per hour and it's pretty durable, so fun lasts longer. This one will set you back around 400 bucks, Jada Toys fast and furious Brian's, Nissan sky GTR that's, a long name for TOI, calling all Fast amp Furious fans. This is your chance to own Bryan's Nissan Skyline GTR, albeit in RC car form and with a strong drifting twist to it. Yes, this is a drift RC car that flaunts the same silver and blue livery.
Seen on the original car, now being a drift focused RC car, this GTR is not about speed that's, why the manufacturer doesn't even offer info on that. However, Jada toys does offer spare rear tires because those are bound to suffer a lot of damage during your drifting stance in the living room or on your driveway. For that matter, for a quick dose of nostalgia expects to pay about 50 and last but not least, the team associated trophy rat. The trophy rat not only looks cool, but it also makes do with a three thousand three hundred kilovolts brushless motor 12 millimeter front and rear hex drive wheel, nut and water resistant components. Mind you that rusty looking body is the perfect sleeper, because it not only hosts, LED lights, front and rear, but it's capable of withstanding a lot of damage as it zaps through your backyard at 40 miles per hour. The trophy rat can be yours for around four hundred and fifty dollars and that's it if you liked this video, give it a thumbs up and don't forget to subscribe. Also, let us know what your favorite RC cars are in.

[compare_prices_deals]

source