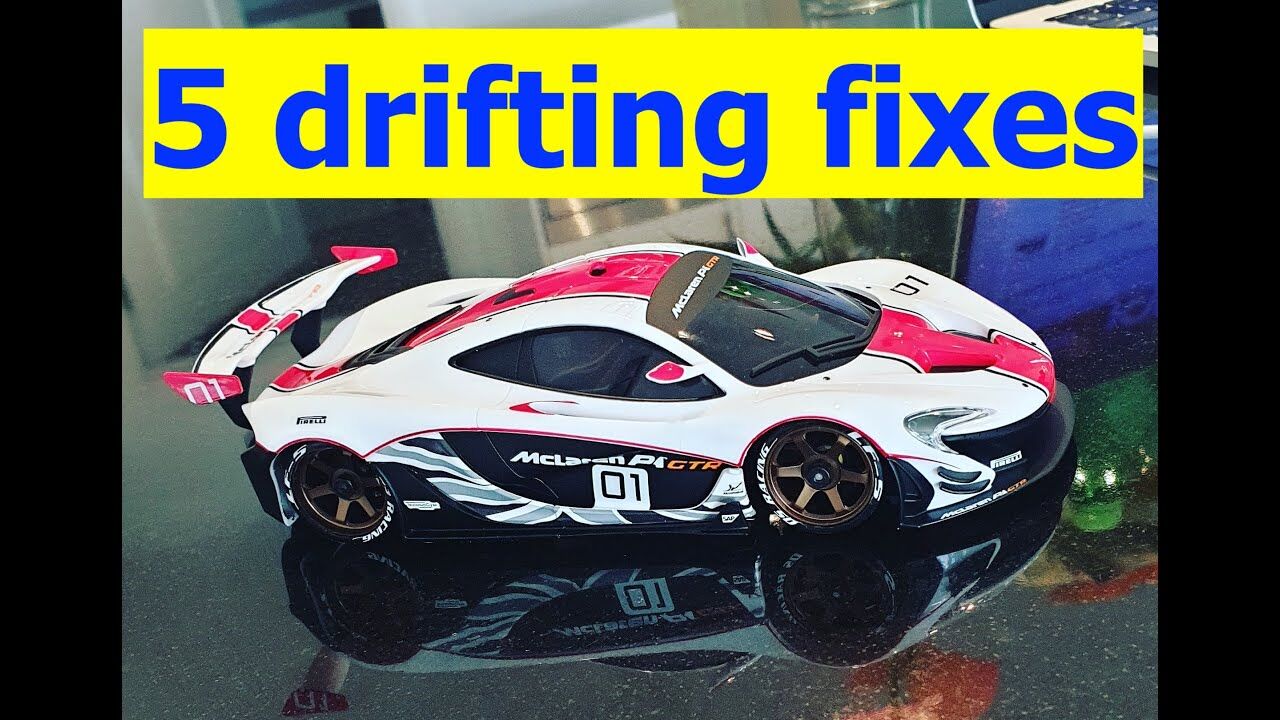 5 drifting fixes for mini rc cars atomic amz, mini z ma030, Ma020, gla and sz


So please, please, please subscribe to the channel and keep giving your support. So what have I been up to the last three weeks? Well, quite a few of you got in touch with me off Instagram and I think there was a worldwide shortage of mini RC cars, especially the all wheel, drive variety, so I had a few people. Ask me if I would want to make them a car, or you know, sell one of my cars to them, so I ended up doing some custom builds for some of you guys, and this is one of them here. This is gon na go off for tomorrow. This is a bmw, m3 GTR, 98 millimetre wheelbase honor names and chassis. The wheels you see here are not standard spec minis at wheels, they're, actually much bigger in diameter and the actual tires that go around them would not fit a standard mini Zed wheel. So you can see they look much bigger, so this is the kind of thing I've been doing, so this one's got locked rear, diff from one way and it's set for drifting with her 3000 500 KVA and I've tuned it up ready to go. It'S also got a gyro, so that will help with the drifting but yeah. This is the kind of fun stuff I've been doing. Don'T ever compare to part with the shell it's, so beautiful anyway, guys so today's video is about drifting. So I want to talk about how to sort out drifting problems that arise so before you watch this video.
It might be a good idea to check out my video on steering fixes just to make sure that you've sorted all those problems first. So if you haven't wan na start already, there'll be a bit in the top right hand of the screen where you can click on, and you can watch that video, so today's video is specifically about you've got a car that you've already had set up for drifting. So we're not talking about angles of the wheels if it's got a front one way or a real octave. This is a you've been drifting with already and suddenly it stops performing like you should. What do I mean by that? Well, maybe you're drifting one way, drifts! Fine you're drifting, the other way and the car spinning out. So this is where I'm going with this video it's about problems that arise with a car that was working perfectly then suddenly isn't anymore. So this applies to both minis Ed's and Ames, Ed's, GL A's and even say Abby's at three or NS said. A lot of these tips are universal, so the first tip relates to bearings and drive shafts. Now the drive shaft part we all have covered in the steering fixes, but this is something a little bit different. So first thing you want to check is that the bearings aren't damaged? This has actually happened to me on a mini Zed, where the bearing itself, the bearing itself, had become damaged so that it was broken and the drive shaft was wobbling that I didn't notice initially, but then the bearing broke completely.
And what would happen is the drive shaft would spin so much and lock, and that was causing the car to drift. That spin out, in the right hand, side that was not always evident at first then, eventually the bear you just broke fully and I could see what it was, but it's a good place to start so check both the bearings on the inside sorry on the inside And the outside of your knuckle and see that that's, okay, the other thing to check while I'm there. So this applies to the same tip here now: he's a dry shirt before I've had this with my s, said where the joint in the drive shaft, but it was some metal drive shaft. The joint has become warped and every now and again it jams that could have a knock on effect. It can actually affect the rest of the drivetrain. So the wheel keeps jamming car keys. Spinning out that damage may extend to your diff, you can go on to cause problems with a different thoughts to get the gear strips or it wrecks the difference, so it so it's one to watch out for usually the problem eventually will reveal itself and the drive Shaft breaks that doesn't always happen, and it can be really frustrating in the meantime but yeah. This is something that has happened on my minis at the varying breaking. The driveshaft is more I've had on the s said, but it can happen or I am said to so that was tip number one actually before we finished this tip a few simple points.
Its relates more to cars that you assemble, rather than a mini Zed. Make sure that these kingpins that you've got here for the steering for the knuckle that the thread the screw itself isn't coming into the place where the bearing would go. So I would shrink the lighting right there guys, so you can see that it doesn't extend too fast. You may have to loosen that if it's extending too far, okay, so that's steering sorry drifting tip number one tip number two applies to dips, especially ball dips. Now I'll give the mini Zed heads up: compliments here, because the minis there diffs that come with the called right cars that have closed up and even though they're very loose, they very rarely actually go wrong, they're, very reliable, very durable. These ball dips are more fancy and more moving parts. You can tune them, you can adjust them, but it also makes them prone to problems. So problem I've had before drifting car working nicely and then it suddenly starts to not behave like you did and if anything starts to spin out more easily or you just can't seem to hold the drift and this gradually gets worse and it could be because if You'Ve got ball dips in the front of the rear, they've gotten loose, and you need to tighten them again now. You have to be careful when you're telling these ball this because it's, what the screw that goes in here and you have to hold the collar there.
Little plastic, the collar that you can see actually Smet on this one there hold that and then you can tighten it or loosen left is loose right, tighten and if you're over tightening you can strip the thread on the screw. That runs through the middle. And then your different work anymore at all. In that case, you might have to end up having to lock the differ with a glue or something, but the idea is that you should just turn it enough to the differing ends, its performance. You can get spare Center. Shafts from Miracle Mart, if you do find you've done, that I always keep a few spare lying around just in case, but that will definitely affect the handling of your car. Where was once normal. So this applies more to bald lifts and it can be the case that the bald, if itself, you know as it expired and you have to get a new one. So yeah watch out for that because it sneaks up on you. The difficulty gets too loose an easy way to diagnose is when you turn the wheel. The wheel just runs freely, doesn't even turn the other wheel in the opposite direction. I could normal differential would do so. I tend to keep mine quite tight anyway for drifting. Okay, guys, I take number three tip number three relates to something similar that we covered in the steering fixes, which is the ride, height and suspension if your ride height is uneven.
Now this shouldn't be the case if you've been running the car and it's all fine, but sometimes things go wrong. A car takes a knock. You lose a screw. The joint gets moved out of position. Well, with the am said, we've got adjustable, ride, height screws at the back that we use have quite big ones in here now. After a recent issue, I've had where I lost one of these and on the rear you can put the bigger ones in cuz there's. No steering and, of course, to get in the way on the front you have to keep them quite small, probably the ones that come with the kit, and why is it important? Well, if you lose one of these screws instantly one side, the suspension tension will change because the wheel will travel further and your car will be jacked up on one side. You may not notice this notice this at first, but you might find that as you're drifting and turning one way is lifting up and that's causing your car to spin out. It could be a front wheel. It could be a back wheel, but you need to set that straight. If you want the car to turn and drift properly. Equally, the suspension settings have to then be matched up. So if your tension is he unequal either side the car will spin out now. Obviously, if you've set the car up – and it was working okay, the suspension shouldn't be an issue, but if any of the moving parts get stiff or locked or get dusting dust or dirt in them or the plastic, just the wishbone takes a knock.
All these things will affect how smooth the drivetrain is. So you need to check that and if that's smooth, then you're fine put your screw back in for the right height adjustment, and this does apply to minis heads as well. So if you've got a SAS, so SAS d, double D, WS real double wishbone suspension – you actually do get an allen key with them to adjust the ride height so that you can make their car more, even when it sits now with the front minis Ed's again. This shouldn't be an issue you can adjust the ride height on these, but it's a bit more complicated. You have to use your shims and I can't remember the size of Schumer's. Now you can put anything you can put little washers in below the knuckle to adjust. The ride height and you can get these from my suppliers now I'll just measure them. Yes, so they'd probably be about two point: eight millimeter shims in terms of diameter there and that would do the job, but yet ride height and suspension. If your suspension tension is an equal of a sudden or something's jamming your ride height, then your car won't drift equally in both directions, so that's something you have to almost do like a maintenance check on tip number four okay. So this is very interesting one, and this is something that can be caused by a driveshaft issue which goes further down the line.
Now I've got a friend at the moment who was experiencing these issues for the last week, and we've been backwards and forwards, trying to work out what was wrong, and eventually it came down to a broken drive shaft, which would in turn then damages from one way. Diff, which then it also stripped this little cog in here. So what was happening if we isolate each individual problem? First off you're, not getting power transferred to the front wheels properly, because the cogs stripped it's engaging belated skips I'm doing this on purpose here. Just to show you what I mean, so you might get power one way, but when you go the other way you don't, because a diff and the car go no longer meeting together properly, so a stripped cog or a damaged. If so, if you've got a front one weighed, if this can happen as well, but if the COG is worn, you don't always have to replace you. You can shim the diff using, I think six millimeter shims I'll put them up in the description later and that can then change how tight the diff is against the COG. So you know we put them between the bearing and the here. She put him in there. So that deficits tight against the cog, but that is something that normally when you assemble the car, you think that say: it's done just like a real car, these things can wear out, parts can wear out and you have to check these things so again.
This can cause the car to behave like a rear wheel, drive and that won't drift in an all wheel, drive setup so check the COG check the diff. What can go wrong with the one way diff? Well, you can get it that, even though they've only supposed to turn one way if one wheel is locking and the other is moving and that's gon na cause problems with your drifting so check the diff and the symptoms can usually be found to start from elsewhere. In this particular instance, I think it was a driveshaft that was about to break which was causing the diff to lock and it stripped the gears so that's quite important, while it's also a headache. You have to keep disassembling the car to work out what's wrong, but if you end up in that situation, try and think it out. Logically, look at the driveshaft first, because it's easier, look at the wheels and the bearings first because it's easier. I only move on to the diff unless she really knows the diff or you can see an obvious problem like the front wheels aren't turning or the rear, wheels aren't turning okay, so last tip here now is to do with your radio gear. I was going to put this in a separate video, but I thought if you're having trouble drifting and it was fine, it can get really frustrating so I'll go over this briefly in order to include it as one tip.
If you've got a steering, servo make sure it's working properly, that it's, not stuttering and then the cogs haven't been stripped and it's, not jamming to one side, the pot is damaged that can cause issues if you're trying to drift to the wheels are locking to one Side, an obvious one which people can overlook is if you've got a gyro check, fits in the correct direction that it's steering counter steering, so you can slide and not over steering so you're spinning out. What do I mean by that when you turn you, when your car slides to the left, your gyro should correct the wheels to the left, because drifting to the right, the wheel, should turn to the right. If, when you're drifting say to the left, the car start steering in the opposite direction, so you're drifting this way and the wheels are turning that way and the car also keeps spinning out. This is an easy mistake to make if you've accidentally reset the gyro or the gyro just decided to do itself with a mini Zed. You can have this issue as well. If you accidentally have taken your jar off and on and screwed it on upside down, that will make the car oversteer but it's not really a proper problem, it's just something that can happen but it's good to check out your radio gear and make sure it's all Functioning correctly, make sure, when you're steering left to right that the car steering isn't, locking in either direction make sure the steering will turn to Center just general radio lated things, but the main things that frustrate you, usually, the radio, becomes evident quickly.
[compare_prices_deals]

source