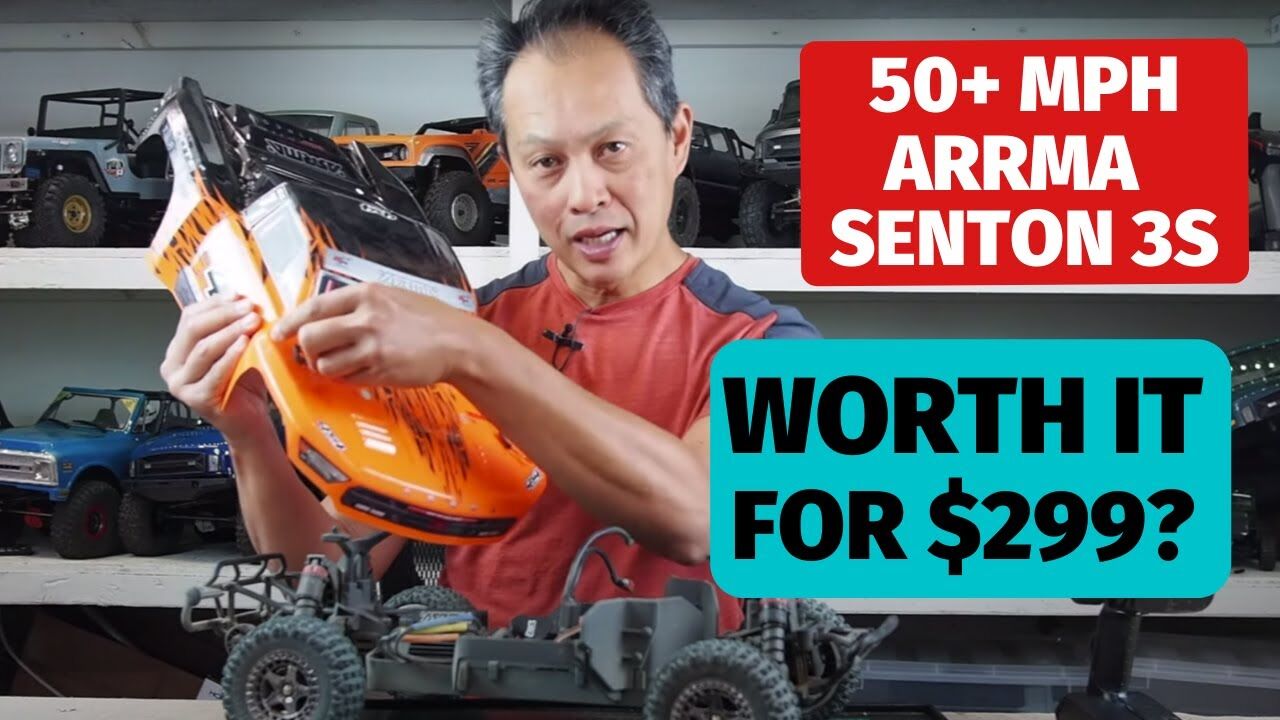 Arrma Senton 3s BLX Full Review – Can it handle the big jumps and tumbles?


Is it worth your time and money hang in there and find out more Music? So I've had this for a couple weeks, arm ascent and the Alexus. My first arm of vehicle I've heard so much about the company and all of their stuffs out of stock right now at a Mane, so I said: hey. Let me just settle for this, and saddle is an understatement. He was on. It was affordable. 300 bucks to 99.99, they have cheaper versions of this vehicle and and more expensively versions are brushed, and this is the the lower cost brushless and we had at it. So I have a video here of me. I believe unboxing it and another one here of me, playing with it, gave the remote to a six year old and we just walked away and it went well and we'll have a lot of video. And then I went to the BMX part the jump park and had had at it with this poor little vehicle. Can it handle the beating? What are the strengths and weaknesses I'm here to tell you about it? So ARMA is a British company, luckily really competing with Traxxas. Give them give him a run for the money and they have such huge line of vehicles and they're all innovative, and this is all we have here so we'll just go through the pros and cons. The pros are it's. A beautiful body paint is a con. I don't like it red orange or green, but it speaks to the crowd.
The short course card, so this is a 4 wheel, Drive short course truck and here's the body nice shape to it. A pro couple pros is the the body Clips. You know the bane of our RC world are tethered one on each side, not just in the middle, and they seem to be attached really well. So, when you're looking for your body Clips, clink it's, always right there, the hole is oval eyes. You know when you're searching for it, you know, after some warping or whatnot it's hard to hard to find the body post, the Ovilus, the oval eyes, bigger holes, help that also, you know, and you do a lot of crashes. These things start to tear because it wants a little bit of give and movement. So it has that, and you know how these things get rubbed out: cuz under full, full compression. These things hit the body and they get scratched. You could see from the outside. So that's all reinforce already a little personality: don't just bass, blast really cool. So those are all pros of the body. Pretty durable body. Some people say, put some duct tape or Gorilla Tape on it to reinforce it. But for what I'm doing, which is quite a bit, it doesn't seem like it needs it and it's, not that heavy, so here's the chassis, a bunch of pros as well. So the biggest thing I can say about ARMA 2 things one is, it looks so durable.
You know if all the materials are first class, so the plastics you know the the size of the arms, the size of the drive shafts you know drives, have some suspension, so materials first rate. The next thing is the modularity. The modularity is really cool, meaning you pop out the you don't, you don't, so it's easy to work on. You don't work on a motor like this. What you do is you pop it out and this motor pops out with one screw it's amazing it's got a pull tab. You pull the drive side out it's spring loaded. I couldn't believe it you know, and so, when you're, when you need to change your pinion, you pull it out and then you work on it same thing with the with the transmission and differentials easy to work on, because you pull everything out what allowed? What that allows us well is modularity. You know, let's, say you don't, like this motor. You want a more powerful motor you or a brushed motor for your kid. You pop it out. You pop the new one back in you know. Upgrading is easy. So a couple other things is, this thing is a handle which is quite convenient but it's. Also a shock absorber as we learn from this Traxxas Slash strength is about impact resistance and you don't do it by using super rigid materials. When you hear a wall at 30 miles an hour, you can have the best material, it's gon na damp it or it's gon na transmit the shock.
Something else is gon na get damaged in your vehicle. What you want to do is dissipate the shock like. So this whole thing is designed to flex when you can get a hip here. This thing will Bend and the shock will go away same thing here when you compress it, this loop is not just for decoration, it's meant to absorb impact. So all these are are load zones five mile per hour bumpers, so to speak in this case, probably 30 mile per hour bumpers, so anticipate the shock and and not damage anything. So where you will design all around the shocks are huge. The arms are big, the the drive shafts got nice damping, the the body posts are very strong, but right here, there's designed and flex so strong, where it needs to be flex where it needs to be so very well thought out really impressed with the thought process. Here and so here we go honeycombed here really strengthened, you're, not gon na. You know this is probably you know as strong as its gon na as you can get you know for for the material, because it started strengthened in the key places. It'S not gon na break where it normally breaks there's a shield here where you get a lot of rust. Coming from your your tires, especially when you're turning in the loose stuff and then we get to the motor and electronics the motor, I think it's a 4100 avy and amazing power, the on 3's goes: what is it safe? Fifty five fifty miles an hour 55 miles an hour, something obnoxious, and then you have a an ESC, that's very strong, I believe, it's a hundred app.
So you need a battery that can deliver hundred amps of this charge rate receivers in here servo, which I already upgraded and I'll talk about, that let's see you got a switch, a handy switch waterproof, so it seems to be well protected from the elements as well, But all the schools that they use hardware turnbuckles all the highest rate materials. It feels like a five hundred dollar vehicle, but it's three hundred so really durable, and what I'm finding is and I've seen some videos on YouTube about them, really going 50 miles an hour and taking a jump and just landing on this roof or on its side. And it's not breaking it's, just amazing. I think this is one of the strongest vehicles around because for its weight, because it's so strong that its weight it's not too heavy that it's gon na crush it. So basically, as you shall see in my job, it is jump at under 20 30 feet up in the air, but it wasn't like a brick coming down. It was light enough that it's, looking down with the body, is like a parachute coming down. So it's not like a 10 pound 15 pound vehicle that's gon na run into a wall. You know it's it's, it's strong enough for its weight that it's it's not gon na damage itself. In most cases, okay, so weaknesses so let's see more reserve. Radio and radio and servo are not that good.
Okay, I don't like this. You know plastic base, low response, it's capable it's to to get you started, but it's really not that good. This the so I reply, I changed it with a radio link and the radio link has a gyro as well to keep it straight, so change the servos. Well, I believe the servo is like an 8 kg servo, which is really weak, so might as well. For the speed says, it's gon na attain give it a nicer bow. It'S got a steel, steel, servo horn. So what else so for another downside? Is things get caught in the in the steering area? So it just gets filled up with rocks and then it stops. It stops tearing there's a hole here, so I think that hole needs to be covered for sure, but really what's needed is something on top to prevent the the the rocks from coming in and jamming the system. This is not a lot of room there and it needs all that room to to activate the steering another weakness kind of minor that the wheels so ugly. They look like mall crawler wheels because of the little click anthracite glass, let's, see and then, and so I've had so many big rock here. So I've had a few good sessions with it already and you'll see, and the only thing that broke is my soldering job. It took a huge fall, all those Falls. You know I could not anticipate how fast and how how far this thing jumps: it's, amazing but sometimes I'm falling late and and it just accelerates all the way, to the lip of a jump and it just flies.
And so I jump right into a fence into oblivion or usually old. You you want to clear a double and you're gon na land on the on the triple wall, but it's that's wrong tires are okay, you know they're, not super grippy, but it's enough to to get you rallying. I think, with these tires on loose conditions, you want a gyro, keep keep that thing straight and you need a servo to respond super quickly, so very cool. The pinion, I think, is too tall, so it came stocked with a 22 thing and a lot of these cars. They do it this way, so they could claim 45 miles an hour 55 miles an hour, so they put up really tall pinion and in reality, it's. Not that usable, you know it's usable if you have a long runway. I noticed that you know three four seconds in I'm already out running. The thing is it's finally accelerating at full. Give you know, because now it can it can it can pull that pinion. So you're wasting your motor. Everything is heating up with your 22 Thingyan, so I changed it to a 15 to thin yin. I couldn't go in between 20 and 15. I guess ago 2015 huge jump so a little disadvantage because it's an indexed pinion mesh that controls it. So I put in a 15, so the last stuff you see on the BMX park is 15 15 yin and you can see how much better it runs.
Basically, you can just settle straighten it out and then gun it and in right there it's gon na accelerate from that. Second, on so way more usable all those jumps I did with the 15 tooth Bennion, so it probably won't – go 55 I'd, probably go 40, but it's way more usable, so a little weakness but it's easy to fix nice big shaft on this. So you need that those big pinion years, so there you go: Music Applause, Applause, Music, Applause, you Applause, Applause! Right! Now there you go Applause, you enjoy the running: video 300 bucks; 300 bucks, not bad huh and it's. Just it's just I'm, pretty impressed my slashed 4×4. Before was not this good, so we'll have to do a shootout and and see how this this does against the other popular vehicles in in the price range that's similar all right. Thanks a ton Music Applause, Music! Oh before I go, what do you think matches up with this? What is better with than this and in the category, and what should be my next armored vehicle after this? What what's gon na get me to the next step, that's gon na give me that wow effect again. Alright.

[compare_prices_deals]

source