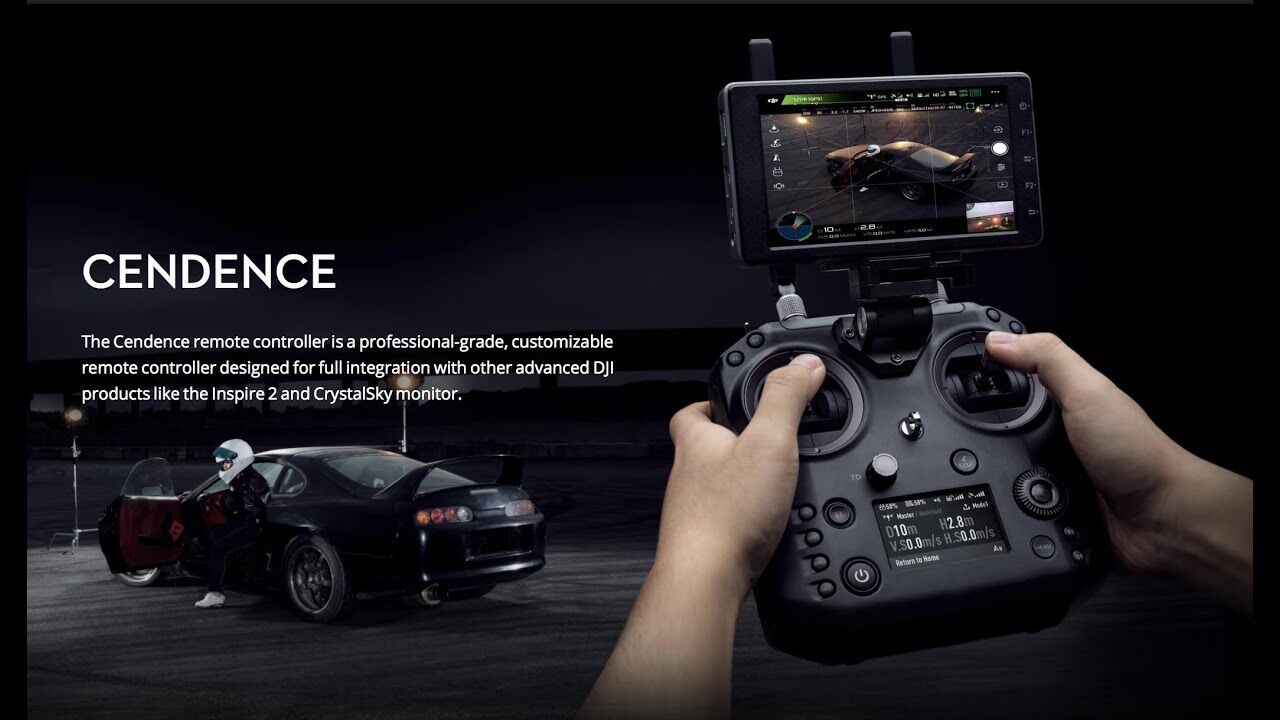 DJI Cendence Remote For Inspire 2 & M200 – New 2019 Complete Review and Features


Now I've had this from up pretty much from day one, and I actually did a video on this when it was just coming out of beta. However, quite a lot has changed since then, so I thought I would do an updated video, giving you guys an overview of this functionality, telling you as plus points as well as give you some information on some of the things that don't really work so well on. It so you're able to make the decision for yourself. Do you need this remote controller over having the standard, remote controller that comes with the inspire 2, because it isn't a cheap, upgrade it's, a thousand dollars or a thousand pound? And it is something that some people say is fantastic and some people have said well, I'm, not so sure about so in this video we're going to have a look at it. Give you guys as much information as I possibly can and at the end I'm, going to give you my thoughts on this remote controller, having used it pretty much since day, one with the inspire 2 Music? Okay! So, just to give you an overview of this remote before we look at it in some more details, the sundance is a multi function, remote controller designed to be used with the inspire 2 and the original M 200. It has a total of 30 buttons of which 14 are programmable. Now, if you compare that to the original remote, you actually only have 2 programmable buttons on that one.
So it does give you a lot more options, just because there's only 14 of the 30, which are programmable. That doesn't mean the others aren't useful either because they are you've got some fixed camera buttons. You'Ve got shutter and a lot of other options as well and there's, also some nice additional gimbal controls over the remote too, which will come on to a little bit later. Now it comes out the factory with the crystal scope bracket fitted as standard. So if you've got a crystal sky, it really is designed to be used in this package. However, you can still use it with a normal tablet or phone as well. You simply would have to buy the device holder that they make separately, or I actually made a 3d printed bracket and I'll put a link to that in the description of this video which allows you to use the normal device holder that came with that one um. Looking over the remote it's got all the normal stuff, so you've got your two normal gimbals you've got a display in the center, which is for informational. Only you've got a whole host of controls on the front and back as well couple of things on this remote controller that are massively beneficial compared to the original. The first one is that it has a removable battery that is located on the bottom of the remote controller under the antenna. Now this is the same battery that DJI use on the crystal sky.
So whilst you can charge the battery in the remote, there is a charge port on the side there you can swap the battery out at any time. So that means, if you are doing a day's filming, you don't, have to worry about charging the battery halfway through the day. As long as you've got multiple packs, you can simply press the button release the battery and it will come out and, as I said, it's exactly the same battery as DJ you use on the crystal sky. You can then pop a new one in lock it in place and it's as straightforward as that now, as I mentioned, you can charge that battery in the hub or you can charge it via the port on the side, remote controller as well. One of the other nice features with the sin dent is that it actually has the option of two different aerials. They include two omnidirectional stick antennas, but they also include this directional patch antenna now you'll see that there's a bracket here. This is one that I have made myself that allows me to take it on and off quickly, because they do actually want you to screw it in place. However, you can remove it and use the omnidirectional stick antennas. If you want now, the patch antenna actually does help get better signal. However, it is very directional and I have done a specific video on that antenna actually demonstrating it in use. I can say it definitely makes a difference as long as you've got line of sight with the aircraft and you keep it within a very tight range in front of the antenna, but the big benefit of the patch antenna, especially if you're going to use it in Broadcast is it really does help in the 1080p life feed mode? It is night and day difference between using the patch and using the omnidirectional sticks, but you do have the option of both and most of the packages I believe, do come with this antenna or that one as well.
Overall, as I've said, the send ends costs a total of about a thousand dollars or a thousand pounds, so it isn't the cheapest remote in the world. However, because of the options on it, you've got to decide if those options are actually a benefit to you or not. Next let's take a closer look over the remote controller itself. You have usual two gimbals on your left and right now these are the same. Is pretty much all of the DJI gimbals very high quality, not really seeing anyone with any problems with these whatsoever in the center? You have your crystal sky mount as well. Now over the Sundance is a total of 30 buttons of which 14 are programmable. That does mean that there are 16 fixed function buttons and the fixed function. Ones on the front are as follows: you have your power button, your pause button, you return to home and your menu button. The menu brings up the settings for these sin dents in the crystal sky, monitor it doesn't actually bring them up on the display. The display is purely informational, but when you press that it actually brings the settings up on the screen and I'll show you a little bit after, you then have for fixed function, camera buttons down the left hand side. Now these are to control your aperture, your shutter yeah, I sell and jev. So depending on what mode your camera is in. You are able to control those settings via these buttons and to do it, you simply press and hold the one you want so e4e V and then you would tune the jog dial over here.
On the left hand, side that is pretty much all that the jog dial is doing at this moment in time, it's not used for anything else other than the controlling these functions over. Here then, on the top left and right corner, you have a P of programmable buttons and you have another pair of programmable buttons down here in the bottom right, and these can be set to any number of options within the DJI. Go for up something to be aware of you. Don'T have the option to set every feature on the remote. It is limited by what DJI have said you can do within the go app. Also with noting that there are some other functions that you can do on some remote buttons, but not on others, and we look at them a little bit more in detail shortly in the center here, you will notice that there is a control knob, and this is A focused control, the only option that it can be mapped to is focus and it's an infinite Panetti ometer, and it means you're able to control the focus when you're in manual focus mode on a lens on the x5 s, for instance, moving to the top right Hand corner of the mode control you can see another three fixed function buttons. These are focus AF on and off, as well as the record shutter button. You then have your gimbal control located below, and this allows you to control either the pan or the pitch of the gimbal there's one on either corner and you can set which one you want it to do.
However, it is only those two functions it can do. It'S, a self centering spring loaded control, and it is quite nice actually I'd like a little bit more throw on it. But overall it does get the job done very, very nicely, then, on the right hand, side and you've got another one on the left is a fixed slider that allows you to slide it back and forth. Now, whence indents was originally released for the inspire. These were actually disabled and they were mainly designed for the M 200. However, they are now active and they allow you to program it to the rates on the remote controller and it's. Actually one of my favorite functions on this remote and it means you're able to have it at the full front mode and it will allow you to have say full speed forward and then, if you drag it right back, it will drag all of the rates. Back of the sticks, and that means then that if you push full forward, the aircraft will only move slowly now, whilst, yes, there are other flight modes, you can do that stuff in it's a real nice and easy way of being able to control the output of The sticks – and you can do it for forward back left right as well as your altitude as well, so it is a very, very nice control. Looking at the left hand side at the top, you have an additional two programmable buttons, your flight mode switch, which gives you your normal pee mode, your sport mode and your atti.
You have your left wheel, as I mentioned earlier, which controls your gimbal exactly the same as the one on the right, and then you have your other slider located down here as well. Moving to the back of the remote controller, you can see you have you C. 1 and C 2 buttons – and there are an additional C, 3 and C 4 buttons just located up here on the backs of these little triggers, and they are very small buttons that you can press. But again, all four of these are programmable within the app looking at the rest of the back of the remote controller you can see in the center. There is usually a pod over here, but online is missing. This actually hides the adjustments for the gimbals, so you can actually control the gimbal. Tension Springs as well on the Sundance, and to do this normally you'd have to remove the pad, but mine didn't have one on in the first place, so I didn't actually need to do it below that. You'Ve then got two mounting points for for mounting it to a kit, and then below is one of the big features with the some dents. As I mentioned at the start, is the removable battery to take it out? It'S simply press slide back and it lifts out. Just like that, and as I mentioned earlier, it is the same battery as you get with the crystal sky monitor. But if you got a crystal sky as well, you could carry a few pop it in slide and lock and you're ready to go again.
Moving to the back of the see is where you have all the IO ports and you have a SDI, a microUSB which really isn't used. At the moment. You have your canvas port, which is used for the additional GPS or, if you're, using the patch antenna. As I have connected on this one, you have a full size, HDMI output, which is really nice you're not having to mess around with the small ones. You'Ve got a full one which will get you pretty much connected to anything you need to between that and HDMI, especially if you're in broadcast, and then you've got your full size USB, a port on the side. Here and again, if you do want to use it with a device holder, so you can use a tablet. You just use that port there, as you usually would located at the top. Is your two antenna connectors and these are the removable ones, so you can switch between the omnidirectional sticks or the patch antenna as I've got connected here now, to do that, you would simply unscrew give it a tug and it reveals the connector below now something I Will say on these: is they are a little bit delicate? So do be aware of that, if you are changing the antennas over but to refit, you simply place it over the top until it latches in place, it is keyed. So do be aware of that and then screw the nut up nice and tight and it's as simple as that.
Okay, so, as you can see, I've got the crystal sky connected to the sand, dance and it's all tuned on, and the reason it's on is we're. Gon na show you guys the menus, and the thing to note is you won't actually see every setting unless your aircraft is tuned on and connected. Now you can see that the display is on at the bottom as well, and this is actually purely informational. You can't do any settings change very this, but it does give you quite a lot of nice flight information. Looking at display you've got your remote controller battery level in the top left corner. You then got your aircraft battery level, the remote controller signal and the GPS from the aircraft. You'Ve then got the master and slave, which tells you what mode this is actually in and then it says he's got the stick mode as well, so it shows with you're in mode 1 or mode 2. You'Ve then got the distance from the home point and the current height the aircraft, as well as the horizontal speed in meters a second and the vertical speed in meters. A second as well. The section at the bottom is the informational bit which says the patch antenna is connected or not so, if you're using the omnidirectional sticks, that will just be blank. But when you are using the patch it should come up and show that message. So you know it is connected and working properly.
So taking a closer look at the settings on this indents now we've got the screen up and, as you can see, it shows us the buttons we can and can't change. So all of the ones down here, which are the camera ones which are fixed, evie, shutter aperture ISO – are all grayed out the power menu return to home is grayed out as well. You can see that the focus control is lit up and, whilst I said you can't actually change the function on that, what you can do, though, is disable it. So if you click on focus, you have the option of setting it to either focus or nothing at all, but that is the only option that you've got for that one. You can then see that the six buttons are showing as programmable in the front, which is two two and two, and if I switch to the back, you can then see we've got the option to program the see buttons, the four C's and the ones on the Top right hand corner now: all of these buttons have the same options available to them and they are limited within what DJI have allowed you to do and they are as follows: if you go into the settings for any of them, you've got the top option, which Is undefined, which means it is disabled? You then have camera and under camera settings you've got the option to bring up camera settings, camera metering, AF, lock, IE locks, re exposure, lock, playback Center, auto focus, auto focus manual, focus peak focus, focus, peaking, histogram, white balance and chin on the overexposure warning.
If you then go to Kimball, you have the option for get Kimball control, so this is, if you're using dual ops, it will grab it back from the slave gimbal. Your mastery center follow spotlight mode center, fpv, gimbal and gimbal recenter moving under flight control. You then have the option to turn on and off the front leds turn onoff, quick, spin radar chart raise and lower the landing gear and the landing gear switch. Something to be aware of with these to raise and lower landing gear simply puts the landing gear up and down landing gear switch turns on and off the option for it to automatically do it when you get within about 1.2 meters of the ground, so don't get Those two mixed up and those two will not unless you have got your aircraft turned on and connected under the app you've, got the option to switch map and live. You clear flight route show battery info closed tips, check warnings, show gridlines, go to full screen or enabledisable color waveform under advanced you've got composition, mode on and off VPS, which is the downward sensors on and off the front vision sensors, which is your obstacle avoidance or Pause, the obstacle avoidance for a specific task, then. Finally, under other you've, got the option of expand, live view and switch to point four to five gig on the radio mode. So they are all of the options that you have available to you when using the normal buttons on the remote, as I've said they are within the limits of what DJI have allowed.
Now there are four other controls that have some specific tasks on the back, and these are the two sliders on each side and the two gimbal controls. If the sliders have the options of controlling pitch roll max speed, so it's kind of a rate control so rather than full, stick go in full forward. It will actually drag that back. You'Ve got the option to set it to your max speed or throttle max speed, and again these can be set for the left or right slider. On the remote controller, then you've got the gimbal your adjustments on the top and again these two can be swapped around. They can't be changed to anything else, but you can set the left on the gimbal pitch or gimbal your and the right one to gimbal pitch or gimbal your depending on your preference. Switching back and forward to the front. You can see it's, nice and easy to switch between the controls, and it shows you what they do looking over the rest of the options on the front. What we have at the top here is the option to set multiple profiles, so you can set profiles depending on what you want to do. So you've got my front and my back, and that is two profiles that I've currently got in action. You'Ve then got the settings menu in the middle, and this allows you to save your profiles. However, there is something I need to mention you.
It doesn't really work properly with crystal sky. In my experience, it works absolutely fine with our way you can save as many profiles as you want. However, on crystal sky, it just doesn't work for me, no matter what I do it doesn't work, so it is something to be aware of. If you are using anyways, it does mean that you can easily back up all of your settings and I would suggest, even if you are using crystal sky, connect an iOS device to it back the settings up. So if at least, if it ever loses them, you can get them back, but you've got the options here of saving exporting, adding new settings depending on what you want to do, and then you've got the three mode options at the top, which is your single mode. If you're only ever using it in a single mode, you mask that and your slave and again these aren't the settings to change the remote controller into master and slave, but they're the settings of the button combinations when you're using it in master or slave settings. So you can actually have three entirely separate quick selects of button combinations depending on what function. You'Ve got the remote controller doing at the time. Finally, in the top right hand, corner you've got the option to reset all of the settings, and that will clear it all back to factory, as I mentioned at the start, a lot of these settings won't be available unless you do have your aircraft on and connected As well as I did say, you don't have the option for every function and you are limited to what you can do within the DJI app.
However, there is still a very nice amount of functionality from within the sin, dense, remote controller settings. Something else I just wanted to show you guys is about the options on the outputs for the SDI and HDMI connection. To get to these, you go into you settings down to HD and at the bottom here, you've got the option to turn on and off hdmi SDI output you've got the choice to choose the output port. So how to do my SDI? You can then set it to show either the camera display, output picture and picture output or fpv display. You'Ve then also got all of the settings as well, so the show from 1080p 24 all the way down to 720p 60, and you have pretty much every option. You would want both progressive and interlaced as well, especially handy if you are using it in a broadcast situation. You then got the OSD settings which allow to to either show or don't show the OSD over the top of the output, and then you've got the picture in picture options which allows you to set the position of the picture and picture when you're doing that as Well, so one of the big benefits, especially if you're gon na use it in a broadcast situation, is you do have a lot of outputs and it is a nice clean output as well. It means that you just get in the camera feed rather than having a mirror image like you do on the crystal sky and if you are using it with the crystal sky.
You also have your HDMI output on that as well, and you could literally connect to multiple devices and multiple screens. Okay. So before I give you my thoughts on the sentence, just some little things, I want to make you aware of problems wise overall. The remote appears to be very, very reliable, not seeing too many problems. The ones I have seen are as follows: the saving to the crystal sky doesn't work, as I mentioned in the air for the user profiles, it's a bit of a pain you can save to iOS, but not crystal sky it's, a bit of a funny one. Some people report – and I have had this a number of times myself – that when they tune the run out on, is just randomly beeping. The only way you can get rid of it is turn it off and turn it back on again and it's. Absolutely fine! Doesn'T! Do it every time no one's really figured out what the cause is, I think is to do with the dead band on the stick. So what I tend to do is flick all the sticks and the levers and then turn it off and turn it on and it goes away, but it is something to be aware of it's a funky little thing, but it really doesn't affect anything once you turn It off and turn it on again um other than that. The only other thing I've really seen is the odd person has broke the antenna port.
So do be careful with them. If you are swapping the antennas, they are quite delicate. Don'T be rough with those connections. Make sure you fully unscrewed it pull it out gently because if it breaks there on accessories or options available and you've got ta send it in to DJ high. I have seen a few people break the months for the sticks inside and the only way I can see that happening is force on the top I've not seen anyone have it just happen. I think that would happen on any of the remote controllers probably dropped um. So should you buy descendants for the inspire to over say having the standard remote controller? As I said, it's got a total of 30 buttons, of which 14 are programmable, the other 16, our fixed function, but they are very handy. You have a removable battery which allows you to use it all day, long with swapping packs exactly the same ones as the crystal sky. It isn't cheap thousand dollars thousand pounds. However, having used it for 12 months, I actually think it is a no brainer and one of my favorite accessories DJ. I have ever made it isn't perfect. I wish there was a lot more programmable options. I wish we had the option to actually set the gimbal controls to the side sliders as well, to be able to have some automated movement of the gimbal, like you can on the Uni cage. However, even with some of the limited functionality within the settings and the options you have within the buttons, what you do have absolutely makes it worth it it's as simple as that one downside, and one thing I wish they had done – is put a dedicated landing gear Control on as well just like on the standard, remote controller, because there isn't a dedicated one and you've got to use up one of your buttons.
They should have just put the same thing. You have on that on this, in my opinion as well. If you want to buy the sand, dance there's, a link to it in the description of this video there's, a link to the crystal sky, the inspire 2 as well. If you want to support the channel, please do use them it's only by you guys doing that. Can I keep buying stuff and making videos and showing you stuff, like this um that's, pretty much it if you're looking for it, in my opinion, go for it. It is a lot of money, but it is worth it that's it. Thank you very much for watching and I will do another video again soon and that is it for this video. If you've liked what you've seen please do check out some of the other videos we have on the channel, we do have over 150 of them. Also, please don't forget to subscribe by clicking that button in the bottom right hand, corner of the video you'll get updates and please do check out the links in the description.

[compare_prices_deals]

source