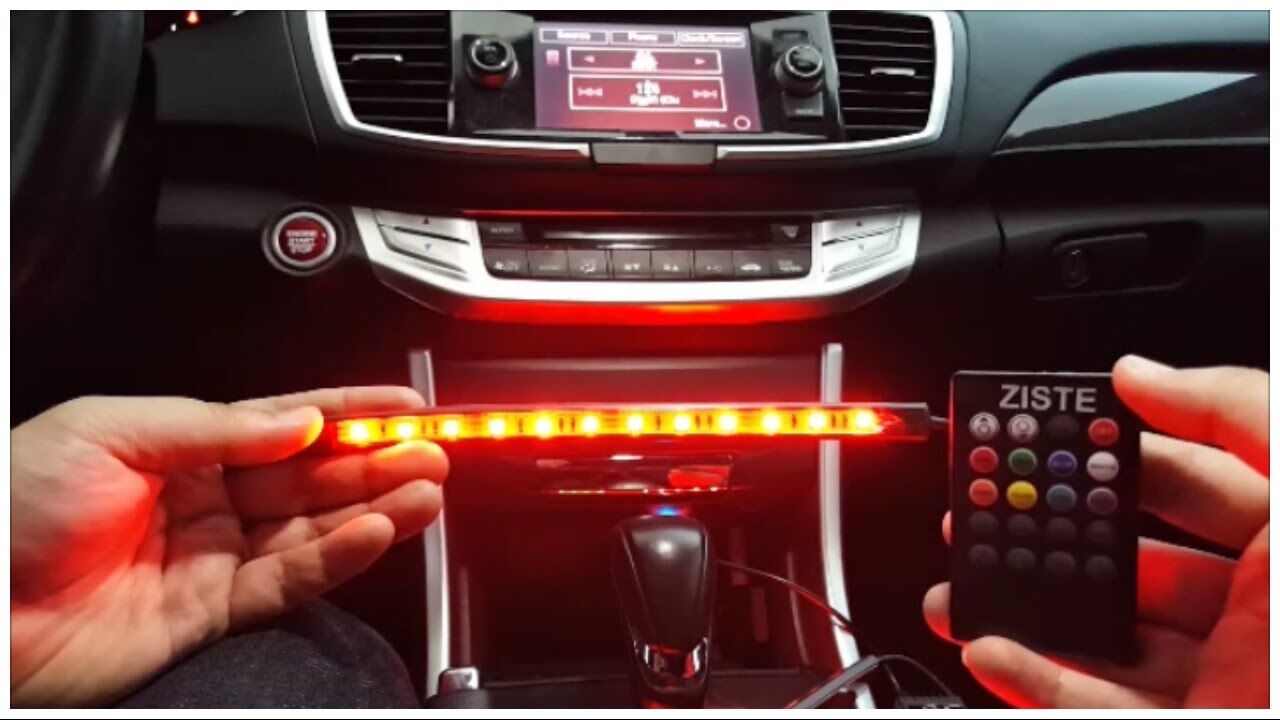 Plug and Play Multi Color footwell LED light Kit with Remote (Ziste)


These are the footwell lighting that you install inside right here for product. They provide you a four LED strip and each LED strip has 12 LEDs and you can set them to seven different colors. Alright, here is the controller. Each LED strip comes with 3m double sided tape, so you just peel this out and then you just stick it in, and this is waterproof, but it's mainly made for interior. Now they also provide you with a dual USB cord charge. Port right here. So go ahead and take your USB cable from your control box and go ahead and plug it into one of the slots and plug it into your charge port. Now this is the remote control receiver for this remote right here, and so this has to be somewhere outside. So, if you're pointing about right here, this has to be either somewhere here or here it can't be behind any cubbies or in the center console anything. It has to be somewhere outside all right, as you can see they work now. I can take the remote and go ahead and change the different color. If I wanted to and cycle through it or you can go ahead and change it, so then it just fades in and out to different color as well. There you go or you can do it so then it actually changes through the music as well see as you can see, the color changes with the rhythm of the music, and there are four different options that you can push for: the music as well.
Alright, this product is very easy to install, because all you have to do is just remove the backing right here and stick it anywhere in your car that you want. They do provide you with a very long cable, so you'll have no problem. Putting two in the fryer a few things I don't like about this unit is a this receiver. They should make this receiver wire much longer so that you're able to route it and hide it away from this little box because look how short it is compared to here. It gives you maybe a foot or so of wire, because you would really want to hide this somewhere right. So, for example, if you have it hook there, maybe hide it in here and put the wire outside, but because it's connected to all this other wire. That goes to the LED strip, it's very hard to route. All this wire through out here, pin them behind in here, and you press it. It won't work same thing with in here, like you, can put it in to the charge port that's down here, and you can route the little wire so that it comes out through here in the front. However, when you have your remote facing this way like if you're, driving and press it, it won't work, because the signal has to face that thing, so it would work if you turn it around like this and then change it. But again it has to be outside pointing out here you can't be inside the cubby, and so just because of that I am going to purchase a longer USB extension.
Cable that way I'm able to route it somewhere up here now. Another thing I'm going to do is I'm going to go ahead and hardwire this into my vehicle, so that's not using off the charge port. Now I know they do sell a adapter that you can plug in here, which is a female plug and it comes with two wires at the end, and so you can connect those two wires into your fuse panel that's on your driver side using a diffuse all Right I'll have the product link in the description below so go check it out. I will also post the updated video once I complete the whole project of adding the show wire and also hardwiring this into my vehicle. As always, thanks for watching please like share and subscribe for more videos.

[compare_prices_deals]

source