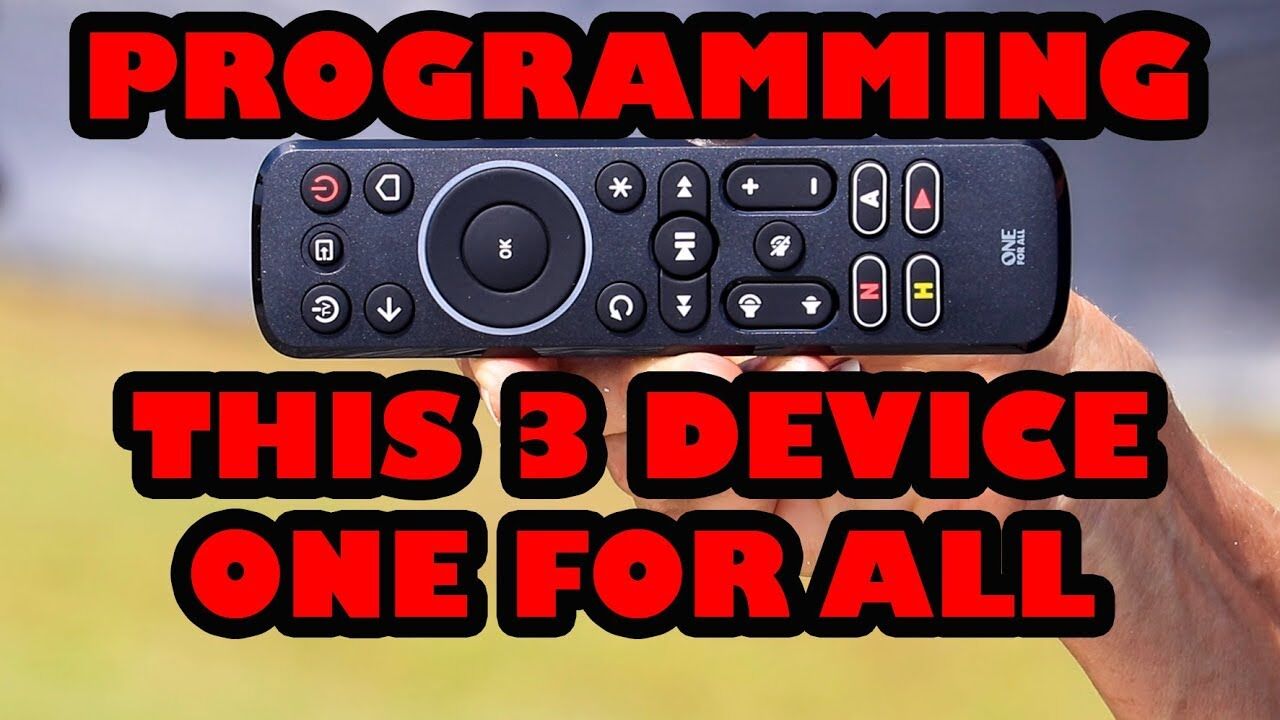 Programming Your One For All Universal Remote Control to ANY Device!


Today, I'm standing on location here at Myrtle Beach, it's a beautiful day, it's about 85 degrees this morning and I'm standing here, looking at the ocean doing its thing, but in this video I'm going to show you how to set up and program this one for all. Three device remote control I'm, going to show you how to put the devices in the remote control and I'm going to show you how that works. We'Re gon na make it real easy for you, so without further ado, let's dive right in so there are actually three ways to program this remote I'm, going to start with the simple set method. First, if you have one of the brand's listed, there are ten. Each of TV streaming and soundbar in each list here are some photos of each of the three categories respectively. You. You should know that this remote comes set up for a Roku streaming device and a Samsung TV right out of the box. So if you have both of those two, then you'll be in good shape, but you'll still have to set up your soundbar. If you happen to have one so in this example, i'll be programming, a sony, tv and i'm going to give an overview of the Apple TV streaming device and a Bose sound bar. Now they did something that I don't agree with with the sound bar, not just the Bose, but all of them. They didn't include a power button to turn off your sound bar there's there's, no way to turn it on or off.
So I actually called them about this and they said that a lot of people like to leave their sound bar on 247 I'm – just not one of those people, but fortunately this is a learning remote, so there's a workaround, so stay tuned and I'll show you how To do that, if you want to okay, so we're, still working on the simple set method, which is the easiest method, if you happen to have one of the brands and the pictures, as you can see in the pictures I showed a moment ago, the Sony TV Is associated right here with this options bar our button or star button, so to get the remote into programming mode for TV, push the power TV button and the back arrow together. Until we get two flashes, we did and I'm putting a press the star button, because that's the one associated with the Sony TV and what this is doing is is every three seconds you'll see a red flash there that's sending out a code every three seconds: okay, Yep let's say the TV turned off, let go of the button and you get two green flashes and that will store the code. Okay, so you're gon na want to test the remote now for functionality of on your TV it's. Only gon na work power input, volume up and down and mute all right. So if you have all of those than you're set, if some of them work and some of them don't try this again and the remote should pick up where it left off.
Until you get to the next code that works and then try that one, if that still doesn't work, we can try the codes that are going to be in the next section or you can try to teach the remote okay. So let me an overview now of the Apple TV to set up a streaming device press and hold the red power button and the home button together until we get our two flashes here and then you're going to want to consult those pictures that I posted earlier To see which of these buttons is associated with which brand, once you see do the same thing, I did with the TV push and hold that button, and this time you're going to want to have something streaming, because it's going to send out a pause signal. Instead of a power signal, so once you see that streaming program pause, then you'll know you hit on the right code. Let go of the button and it should store the code now very similar again to do the sound bar press and hold the volume up and down button until we get the two flashes and the same thing as before, consult the pictures to see. If you have one of those 10 brands listed and which button it's associated with and that's the same thing, you push and hold it down. But this time you're gon na look for the sound bar to mute as mute as the test signal that it sends out.
Next, I'm, going to show you how to set this up by the code. If you don't have any of the brands showing earlier you'll either need the code list that came with the remote or check below in the description, because I'll include a link to the manual and to the codes. Okay, since this remote does not have a numeric keypad, there are buttons associated with numbers 1 through 6. Alright, this is 1. 2, 3, 4. 5. 6. Alright, so we know, in other words, to enter a code of 5 4. 3 2. This is 5. 4. 3. 2 it's that simple, alright, no problem, all of the codes are going to be within numbers 1 through 6, so is usually well you're, going to want to start out with your device turned on in this case, I'm, still going to be setting up a Sony, TV And Apple TV streaming device and a bose sound bar as before, to work with the TV press and hold TV power and back at the same time, till we get our 2 flashes and then this code for Sony is 2 three, three five, two all right. We got two green flashes. That means it accepted the code. Try this code for functionality, if it doesn't work, try the next code in the list. If you've used up all the codes and there's still no joy, then you're gon na want to teach the missing functions which will be coming up in a little bit all right.
So next setup a Apple TV just set up the streaming device press and hold the red power and the home buttons. I know I'm blocking the camera. We'Ve got two red flashes here on the light bar and then the code for Apple is three one one. Four, six, all right: we got two green flashes right there, all right now, next I'll be doing a Bose, sound bar to initiate audio you push and hold the volume up and down together all right. The code for Bose is gon na, be three six two one. One all right: we got our two green flashes all right in this next section I'm, going to show you how to teach the remote you can use more than one factory remote as your source, remote in this case I'm only going to be using the one remote. The reason that you would want to teach in commands is is, if you have a code that is only partially working, you can teach in the missing commands and close the gap of buttons that don't work in this example, I'm. Only going to be programming in some of the functions from the sound bar, so you can see how it works. Obviously I told you earlier the power function, didn't work on the sound bar, so we're gon na start off with that to get initiate learning mode, push TV power and mute all right, it's in learning mode I'm. Gon na use this home button as the power button.
Here because I don't need it, push the corresponding button on the other. Remote got two green flashes. Now, if I was done, I could just push TV power but I'm, not like I'd, like to put it in volume, up volume, up volume, down, okay, mute and mute. Alright I'm done push TV and power and hold it. Alright. I got four flashes there. You can do this as many times as you need to alright that's, pretty simple right now, there's some other functions that you can do like customizing, the color on the LED color ring but I'm not going to show you how to do that. For the sake of time, it's in the manual okay, now these app shortcut buttons at the bottom here will work the same as your original remote from your streaming device. They are for Netflix, Hulu, Amazon, Prime and YouTube. I tried it on my Smart TV and it did not work only on the Roku streaming device now that's, not to say that it won't work on your TV, since some TVs do have Roku built in if your streaming device doesn't support these functions. You can program in a macro to access any of the apps on your streaming device. I'M, not going to get into all that for the sake of time, but consult the manual which I will link to in the description. And last but not least, if you feel you've messed something up and you just want to start over, you can do a factory reset by pushing TV power and back alright and then press options or star, replay and then home.
In that order. We got four red flashes there. The the remote is reset back to factory settings, alright, that's about it guys if you enjoyed this video click on that thumbs up and subscribe to my channel.

[compare_prices_deals]

source