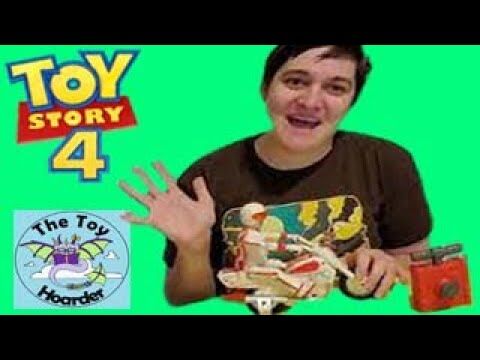 R.C. Duke Caboom Unboxing Review


Now I have already actually taken this toy out of his box so that I could put batteries in him, which was a bit of an interesting packed task, and he also takes a lot more batteries than I expected. This guy takes six triple a batteries, there's two that go inside the remote right here through the back panel and then four of him go in the back of him. You unscrew the top screw in his cape and one just below his cape and the Cape, and that bottom piece all kind of come off together in a hunk, and you stick all four batteries inside of there. So, needless to say, after I've told you that Duke doesn't that come off of his motorcycle, obviously because the batteries are actually inside of him now I did want to show you guys. This is a 12 inch ruler that I have here so just to give you an idea on the box size in case any of you guys, we're interested in knowing that sorry, I'm too close there we go and then I'll show you what it says on the Box and as always, you can pause the video to read anything that you need to read along any of the sides, the boxes. I love all the pictures of Duke and his little hoses here. You can read all of these portions. I didn't see very well sorry. Okay, so this is a really cool toy. He obviously is remote control and there's the box out of the way for right now, but I'll give you a couple of measurements on him too.
He is about, I don't know, maybe nineteen inches long, the whole thing and a half from the very end of this bike to the end of this tire and his height is about seven and a half inches while he's sitting on the bike, and he obviously does Not come off of the bike now there's an onoff switch at the very front just underneath this tire, so you're want to flip that on and there's a button here. That is a wake up button. Now the box says that we can pop a wheelie with this toy by pulling the joystick back and then pushing forward and holding. I am on a table right now and, as you can see, probably fairly close to the camera that I'm using to the video. This way, do you not know how well this is going to go, but if not, we will relocate in a moment, and I will show you guys how this all works so there's only. Let me turn this off. While I show you this on the controls, this looks like it moves in all directions, but it actually only goes up and down so the up pushes him forwards and back will turn and will move him in Reverse and turn him at the same time. So the only way to turn him he's in Reverse that gets a little bit confusing, especially for some of the smaller kids, but still pretty cool, and you still can kind of maneuver him appropriately so we're going to try this wheelie here, let's see how this goes.
All right so turn Amman and I should be able to pull the joystick back and then forwards. Let'S see if this works have full done too far back, oh okay, so you got to see it a little bit there that's, actually pretty cool I'll back this up. A little bit so you can see the heat a little bit more here Music, but that is actually pretty cool and then, of course he was forward and kind of turned back there, so that is the Duke kaboom he's, actually fairly heavy before batteries. I don't know what's inside the bike, but he is a pretty heavy toy here, whereas the remote is fairly light bunch of batteries in it's a little heavier it's got. You know two batteries in it. I wish this stick kind of came up and went down so that you could play with that, but I guess it: doesn't really have a realistic function, so that's, alright, there are sensors on it. Ir sensor is both in the front of the motorcycle right on the back of the motorcycle and then bring the front middle of this Duke kaboom TNT thing detonate the thing uh other than that he's, actually really quite a detailed figure. Sadly, all of these joints are fake. He does not actually move at the arms his hands sort of almost come off the handlebars here I don't think they're really supposed to you and they get kind of stuck as I'm trying to pull them a little bit further.
His helmet also, sadly, is not removable, nor does his eye piece come up, so that's a little bit disappointing, but overall, he's really big and if you're looking at this in my hands, this is a huge toy, especially for little ones. To hang on to you so be really careful if you're gon na get this for a smaller child, I think with supervision, though it could be really fun to play with and just make sure they kind of get the hang of using this backwards and turning feature, Because that's a little bit confusing for a lot of kids, I do also super love that there are a couple little details like right on this wheel. You can see there's a Canadian leaf right on the inside of this silver part kind of turn it. So you can see more of the leaf, but I think that's cool it's actually on both sides of the bike and there's several other little details of the engine and different pipes and things like that. He'S got all of this: the red designs and his Canada maple leaf on the front as well as his Cape. His Cape is slightly flexible, but not too terribly flexible just fell over all right, as you guys have seen. I took Duke outside we're a little bit of a test run and I'm about to give you my quick overview of the pros and cons. So pros is: he is fairly movie accurate and highly detailed.
I really love that about him and his remote. He is very durable and it's a large toy he does run outside as well as on smooth surfaces indoors. Now, if you're gon na run him outside make sure it's a very, very smooth surface outside no twigs leaves sticks anything of that sort. He does pop a wheelie which is really fun and he will actually ride forwards or backwards, while still in the wheelie pose, which is great, he's got a great range on him. I measured 22 feet and he is a fun toy. Unfortunately, I do have several kinds to list. First, this entire figure does not come off of the bike, nor toises helmet and his visor also doesn't lift up, so you can't ever really see his face. Additionally, all of his joints are connected to the bike, which means I can't, even you know, pose his legs out or up or down, or move his arms funny and give him great poses, which was a crucial part of his character, design and his whole personality throughout The film so I'm kind of disappointed that we lost that. Additionally, this remote only has two directions despite it looking like it has more, it goes but words or it goes in reverse, while also doing clockwise circles. This gets interesting because it introduces a ton of blind spots and you will not be able to move Duke unless you actually move around. I ran into his blind spot way more times than I could even count well doing this demo for you guys outside, and I cut a lot of it out because it was really frustrating.
As you watch me, walk her in the camera trying to get in range and outside of his blind spot gentlemen, the battery compartment. He does take a lot of batteries, which I don't really know as far as our sea toys, but he takes six triple a batteries. She'S more than I was expecting additionally, because this cape isn't fabric or a flexible plastic, it is really hard to get at the screw underneath his cape I'm, trying to kind of show it. I didn't know how well you can see it in here, but it makes it very difficult to get at, and I also would have liked to see in a fabric cape so that it could kind of float around behind him as he was rolling. I think that would have been really neat. Probably the worst thing about him is that he falls all the time when I first started rolling him, he moved about an inch and fell over. He continuously fell throughout the trial, as well as running into those blind spots. In between the two, it was really frustrating to try to control, definitely not something you want to give to a smaller child because they will be way way over frustrated. Anyway. I did give this toy a three out of five stars as it is fairly decent, but there could be a lot of improvements made.

[compare_prices_deals]

source