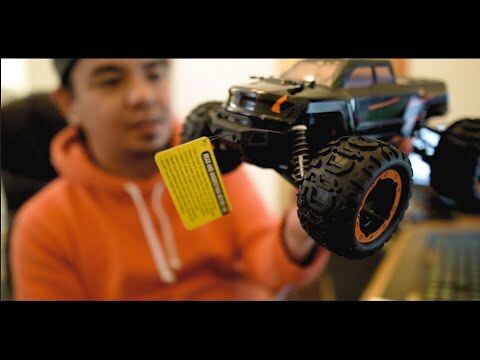 RC Cars 16889, 1:16 Scale 2.4Ghz Remote Control Truck Unboxing | Review


I ordered this one last wednesday and just two days later it arrived here in my doorstep, and you know what's inside this is the rc 16889 remote control car. It can run up to 35 or 36 kilometers per hour. Imagine how powerful that is for a remote control, car that's, insanely fast and today's video we're going to unbox this, do a little review and we'll go outside and test see what's this capable of okay. So it has, this is the packaging. This is the box, so it is a green one. So this is probably indicating that this is ready to run so a lot of race trucks are there. You will still have to assemble it and connect the wirings and all those stuff. This version or rc trap is already built ready to run out of the box i'm gon na. Do a quick v roll to show you around the box before we open it: Music. Okay, so this time let's see what's inside this is the real unboxing time. I just need to remove the tape on this, both sides of the box – okay, so i'm, opening it now. Okay, by the way i forgot to mention earlier, this truck has optional upgrades like if you want to upgrade the shock, bearings and all that stuff it's right here. Animation is right here and there's like specifications on the box as well. Opening it real time, cool man it comes assembled already ready to run is what came with the box, the cards, all the remote control system there and there's a manual here, scale 1 to 16, ready to run awesome like it love it, i'm loving it so far.
Yeah, this is the actual truck man it's. I didn't expect it to be this huge whoa. You see it's a little bit heavy, but the feel of it is really sturdy. This is. This is definitely awesome. Few moments later, okay, so i can't wait an hour to test this. I really want to test this now. We'Ll, just open it and um let's put the battery in i'm, just charge it for like 15 minutes or not even 15 minutes. So this is the lock. This is the body lock. You'Ll have to remove this, and this one too, and this one too there's two in the back and you can take out the cover. So this is what's inside it's really cool. So this is the dean's plug. This is where you connect the battery in. I didn't expect that there's another one battery already inside so now i have two batteries wow. It comes with two lipo batteries, it's, exactly the same it's already inside. All i need to do is just to connect the beans plug to the battery, and then this is ready to roll out uh. Oh man, i'm, so happy with this i'm i'm. Definitely gon na buy another one like this all right, it's set and i didn't notice. There'S also like a light, something like yeah, a led light that came with it, and i believe this is for the um. The bumper headlight should go here. Okay, so i got the two headlights connected and um where's the power button here.
Okay, so the power button is right here on the side, and this is the transmitter, the receiver. This is the um, the engine of it or the motor. This is the battery now let's. Let me get the control now. This is the remote control, so this is already ready waiting for the uh transmitter to synchronize or to be connected, and then i believe, once everything is ready, this would go steady or the light would be steady, but this i have to put a battery on it. First, okay, so it requires two double a size: battery, okay, so good thing, i have uh recharge rechargeable batteries in here, so i got this from amazon by the way too, this uh battery. This is a rechargeable one. This is the ebl it's 20 and 2800 mah. So let's just put this in the controller uh there's an instruction here about the positioning so positive and negative okay, so we'll just slide the cover back in okay, so i've got everything set up the battery as well has already been charged. Now all we need to do is just to test it now to power. It on you'll just have to switch this button, or this switch to the on position and you will see the light will be blinking and then the next thing you will do is to power it on the power button is here on the side. This red thing here so just power it on see it blinking as well, but then it will eventually pair with the controller there.
It is so once the light gets steady. The red light here will be steady as well. That means that they're already connected – and here it is – i like the shock for this one it's. Really there oops, i accidentally clicked the accelerator. You see it's, so smooth it's, really nice it's, really nice. I really like it. I just wish that they included a wheelie bar for this one, because i've seen some reviews online about rc cars and there's like a wheelie extension here, so that when you do a hard acceleration, the car won't just bounce or flip over. But aside from that, it's really cool now it's time to test let's go outside and test this monster rc car here before that i'm still i'm still working right now. So let me just try to run this here inside okay, so this is the trigger or the accelerator, and this is the back Music it's, really fast, Music, it's really fast and responsive. So this is the adjustment for the steering and then this one is for the speed Music switch, Music, ah Music, okay, so hello, guys um. I wasn't able to finish the video, but i would just like to give a conclusion about my experience playing on it and everything that i've deserved. So first of all, the remote range is really wide, it's, really it's really far uh. I was like standing in our block and then it can be shipped to the entire block and i can even like get it further away, but i just decided to not because it will have to cross the street so that's how the the remote control range doesn't Have any problem doesn't have any issue also, the speed is absolutely there's, like three speed choices that you can have it's, either just the slow acceleration middle and then the high, when you set it to high it's, really really fast.
You would notice how um what you call this and i really like it. I really like it there's, no cons that i could probably think of with regards to the wheelie bar. It doesn't need it, because for this model, the shock is very smooth. So when you do a hard acceleration, the car won't flip over, unlike those other remote control, uh, race, cars or race trucks. That would you like do a sudden, quick acceleration. The car would flip, but this model it won't because of the shock it would absorb it and that's, probably it i enjoyed it. I love it. I actually would like to play it again tomorrow and um that's, probably all for today. If uh you have any questions. Plea feel free to leave in the comment section. Thank you so much.

[compare_prices_deals]

source