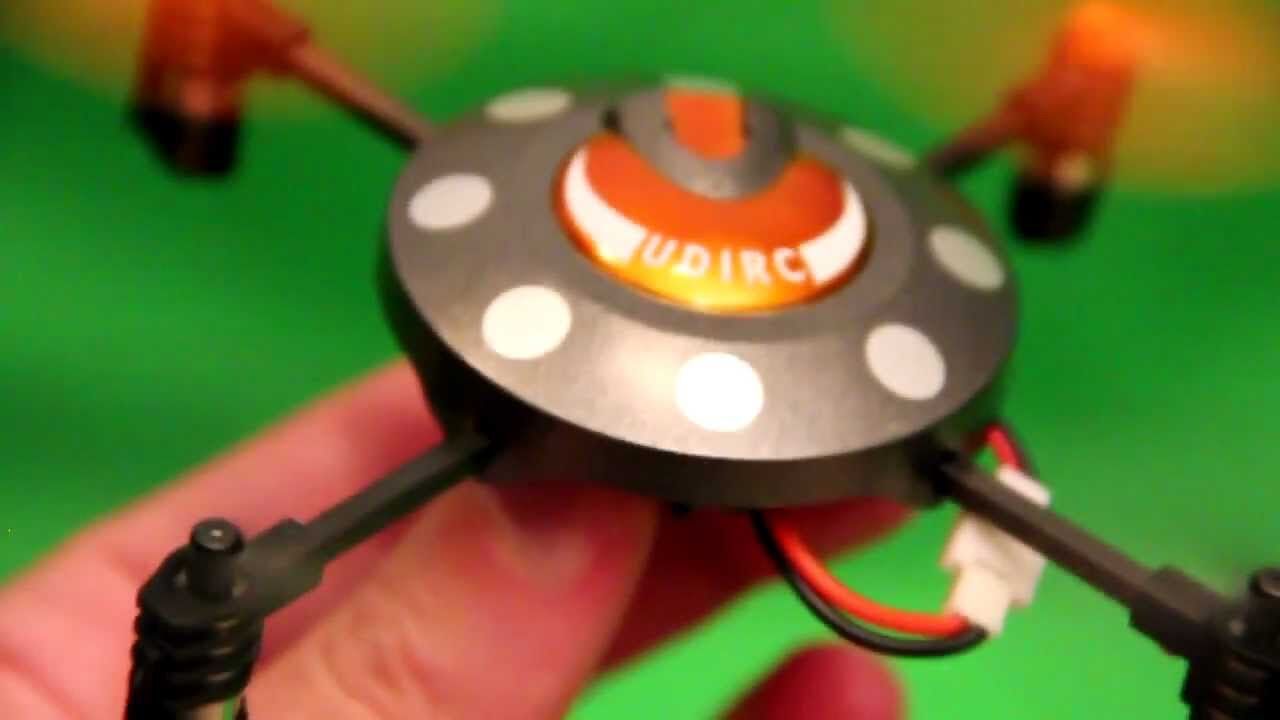 Review: UDI U816 RC Quadcopter Flying UFO. Full 360 Spins via Remote Control


As you see there, it's got the quad rotors can be flown. Obviously, outdoors and indoors it can do spins. You can go clockwise counter clockwise, you can go left right and, of course, up and down. It has pretty good stability because that gyro stability built in but it's got another feature which we think is fantastic, and that is the ability to do a full 360 flip in the air we're going to show it to you here as we take it up in The sky there was one there's another and we've got another we're gon na show them to in slow motion. But what we've done here is put together a compilation of us flying this mini UFO around, so you can have a closer look at it. Let'S take a look at the mini UFO in action all right. We will get back to the action in a minute, but we want to go over exactly what you're getting here now. This is the UDI u8 16 from a company called UDI. This is not something you pick up like a Target or Walmart we got ours, you can get it from a website. Our sea fever, comm will have a link to that. In the comments comes from Hong Kong, we're gon na be honest. The instruction manual is pretty bad, very broken English, but if you know about RCS, you should be able to figure it out how to trim and all that is pretty standard.
Now let's look at the helicopter itself and what you've got, of course is you've got the quadrotor. It doesn't look very sturdy, but it is we've crashed it. A lot have not broken it. We lost a rotor or two, but does come with a replacement one. So that's great let's flip it over on the bottom again. Doesn'T look like much, but this thing works. You put a battery in here, actually comes with two batteries: interesting thing: there's, no onoff switch on the UFO itself, you just plug it in or unplug it, but let's show you how the batteries and the battery charger works so here's the charger you get, and this Actually plugs into a USB jack, so you can charge it up using a computer, what's cool here we have them hanging off. It actually comes with two batteries, which is really nice. You can charge two at the same time, which is great because you only get about seven minutes of flight I'm out of a battery, and it takes about 50 to 60 minutes to charge these both up. But so at least you do get two. So it takes about an hour and then combined you'll have about 14 minutes of fly time, so it is nice that they do give you two batteries with it at least all right, we're gon na show you a quick little test here and that's. Why we have the noise of the UFO going out? People have asked: what is that six axis gyro mean and what is the gyro stability? What it means is, if you try to turn this upside down, it's going to write itself and we're gon na just try to illustrate this by letting you hear it.
Listen to the difference in the sound. When I try to tip this there, you go and it was really hard to turn it. When I go to try to turn it, it work works very hard to try to stable itself and turn itself back over again I'm, not touching art the remote on this. That is just the job of stability, trying to straighten it out so that's a really neat feature of this UFO: okay and here's. The remote control that comes with we'd, like this a lot 2.4 gigahertz remote and what you notice right away is the LCD screen on it. Don'T see that in a lot of the less expensive RC toys, this one has it so that's fun a great read out there again. This does not have a spring loaded control, so we like that you can set your throttle your altitude and just leave it there and you've got the trim. Of course. Trim is important these, but you do get an indicator. You hear those beeps, you know which way you're going so that's a nice touch with it and then the 360 button. You press this button here and that's gon na make your helicopter do those flips, which we showed a more shows Samora and actually two modes mode. 1 and mode 2 mode 2 is a faster speed, more advanced, we're, doing almost everything in mode 1, but so it's, a really nice remote control. But enough of this let's get back and see that UFO in action all right there.
You have a quick look at the UDI 4 channel mini RC UFO it's a quadcopter, our final thoughts we'd liked it. There are some issues with it. Sometimes the remote wouldn't sync up that caused some problems, but we always got it to work. The instruction manual, not great English, isn't great in it, but again we're able to figure it out. Overall, though, a lot of fun and for only about 40 bucks that they can do flips and that it has a gyro stability, six asset XS, a gyro, all pretty impressive.

[compare_prices_deals]

source