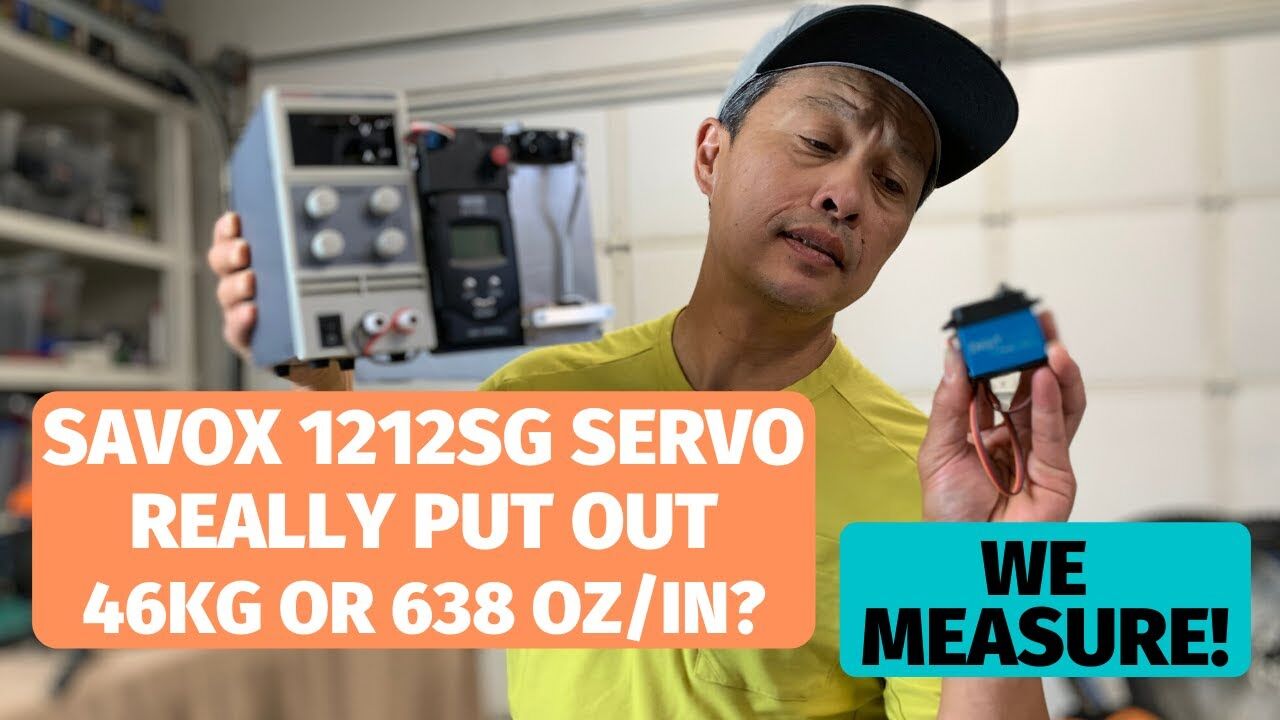 Savox 1212sg Servo reviewed and measured – claimed 638 oz/in or 46 kg true?


We have the noose a box 1212. So many people have asked me to test this because they claimed 638 outs inches of torque is that reality we'll find out with our RC review, servo tester. So a little refresher on our servo tester is powered by an event tech power supply. Just so we can control the power and not be constrained by power, as you know, that BAC usually provides that purpose, but it's a crapshoot. What your bc will supply. We have a controller here, so you don't have a transmitter and receiver but the servo here and then we have a scale at measuring device, exactly quite accurate. This one we've tested it several times, so it measures in ounces. You can also measure in kg, so servos are measured in ounces per inch. What it means is, how much can it pull the we separated the meter device here, the the sensors so it's here when you pull it, it measures the ounces and it's. It is quite accurate, so we have to design this lever system so it's an ounce is 4 H from Centers, and this is an inch away from center exactly and we we pull it at a 90 degree angle until it stalls exactly okay to stall these servos. They, you know that's that's, basically what they do. They don't break but that's, where you're at the limit over here we've controlled. The voltage voltage is what you give the servo and apps is what it draws, what it pulls.
So we will see what it pulls on. This metric right here so point, oh four amps, is what it pulls at rest. Okay, so we will measure seven point for a lot of these servos they heat up and they get weaker and weaker. So we try to do if one pole throw that away and then do an average of three poles to give it some consistency, because you do have some servos that you know pull good on the first couple rocks and then, after a while, they seem like they Do nothing okay, so anyway, here it is calibrated 7.4 watch. The load and we're gon na do try to get my hand out of the way I'm gon na pull it. So I don't slam the arm. Rather, when it hits contact right here, then I pull all the way Music, so that's a 500, almost a 5m draw. We put it back at rest, so there's the 500 reading the draw he must have seen here and you can also hear the servo blow door at stall. Some are noisier than others, so that's it's noise, so now we're gon na reset it so that's. Our throwaway Pole do three poles, Music 476. Try to turn it off right away. You could feel the thermal heat up that's why these servos have aluminum bodies and heat sinking, they're more heat dissipation, the better 461 to no more Music for 4638 on snchez is what they're claiming so 638 or 46 kg, and you could see it it's about.
You know 480 490 at most. It is so far off. It'S ridiculous and I think what's happened here is a lot of these. Other circles came up with a fork: 46 kg rating like the JX and whatnot, and these companies they feel they have to compete in spec, so they just have to make up a spec, so it's a great server. But I don't like the fact that they make false claims and they do the same with the 1210. Basically they do the same with all their other servers. Every sigh box, I've tested is overstating their torque rating. We will do one six volt Pole, so it's zeroed out let's. Do a poll we'll just do one poll 409, basically so it's good data to have. If you don't have ABC or an ESC that can do 7.4, they can all do 6 that's. What you're gon na get 409 okay impress not impressed I'm, really not impressed with sab box; they still love them, but their servos are kind of noisy and all these false claims for what they're charging is something I'm not happy about. You know what the good thing is. This servo has a longer wire. Now you have such short wires. It was ridiculous, so not a bad option, but definitely not 638.

[compare_prices_deals]

source